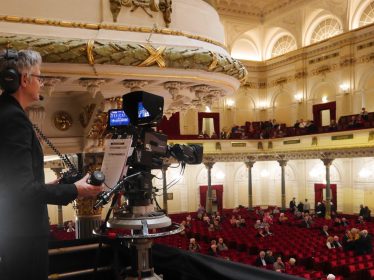 Working in the concert hall in Amsterdam feels a bit like a home game for us. Here we have our own in-house TV studio: Studio 12. From there we make simple recordings in the small hall or large live TV broadcasts from the large hall.
Every year we provide various live broadcasts of the Royal Concertgebouw Orchestra that are broadcast to several countries. MEZZO, UNITEL and medici.tv are some of our media partners.
We use remote-controlled cameras that we can easily hang in many places throughout the concert hall. We also work with manned cameras such as a camera with a long lens in the back of the hall. The remote cameras are operated from our studio by our camera operators.
Because all of the infrastructures for a recording are permanently set up in the building, the preparations for a recording are realized very quickly.
The choice of crew depends entirely on the type of recording. A simple recording with a few cameras can be done by one or two people. During a large live broadcast, there is a robust team of nine or ten in the studio consisting of a director, director's assistant, score advisor, shader/image technician, switching technician, remote camera operators (anywhere from one to three). In addition, the floor manager and the manned camera operators, etc., are in the hall.